HIDDEN TALENTS
About Pam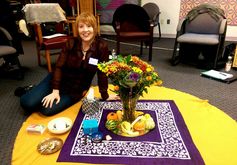 Pam Temple: With a background in classical vocal training, Pam has performed in venues from coffeehouses to opera houses.  Her experience as a Peace Corps volunteer in Costa Rica helped her develop an honest and intelligent song-writing style.  She is also an experienced on-air announcer and music host.
Freelance Singer - Hire her to sub with your band or sing at your wedding.

Voice-Over Talent – Past clients include: American Outfitters, Visons Productions, Knicker's, WNKU Radio.

Writing Circle Facilitator - Certified through Cincinnati's Women Writing for (a) Change, Pam leads writing workshops that provide a safe and confidential setting, which honors each other's words and enriches participants' lives.
About Spencer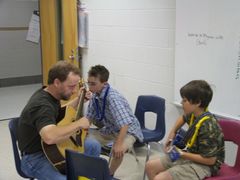 Spencer Funk: Spencer has studied and performed many guitar styles including Jazz, Blues, and Classical for more years then he would like to admit. He teaches private lessons from his studio in Oakley (Cincinnati, OH).

Private Lessons - Spencer teaches private lessons for people of all ages and musical tastes. He will help you reach your musical goals. Instruments include:
Guitar and Mandolin (Beginner through Advanced players)
Bass, Banjo, Ukulele, Piano (Beginner to Advanced Beginner players)

Group Lessons - Spencer is available for group lessons at your school, library or other facility.